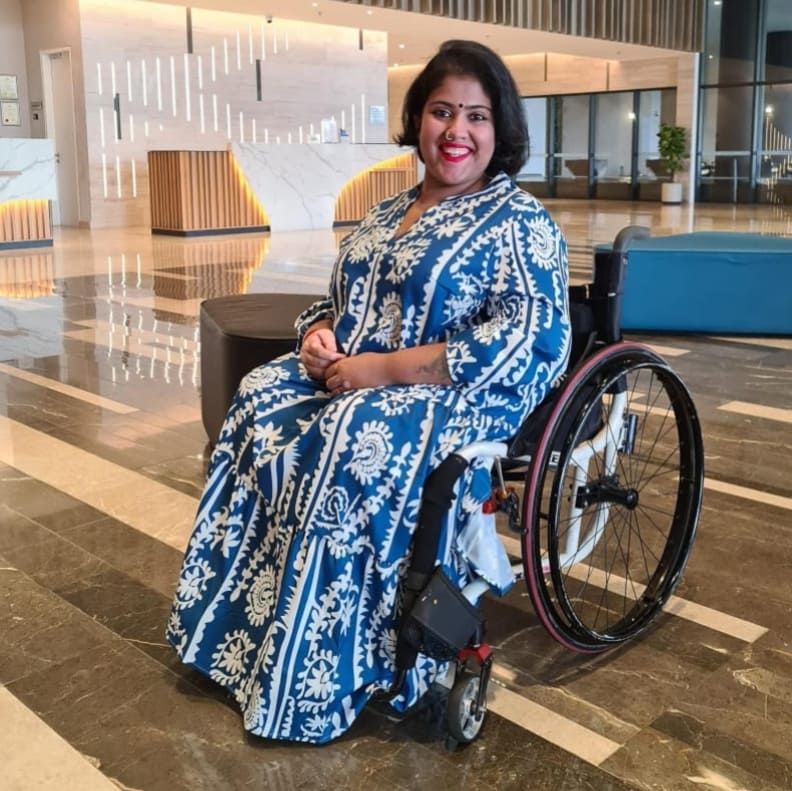 K. Aveena Devi is a Malaysian visual artist whose artworks mostly incorporate various mixed media elements and vibrant colours. Aveena is differently-abled since she was born with spina bifida and her physical capabilities are unique to her pushing the boundaries of her physical body and the wheelchair.
Her artistic journey started at the age of 10 years old with folk art and glass paintings. At the beginning of her career, her physical condition was at the centre of attention which ultimately caused struggle to be recognized as an artist.
Now, with the support of other fellow artists and mentors, Aveena is in the midst of building her career further in visual arts and is continually expanding her repertoire.
Inclusivity is what she has always dreamt and worked towards; a world where no one gets discriminated or outcast for their differences; a world where people and brands consider creating products that are for all types of people in this world.
Aveena is also a model, a motivational speaker who spoke as one of TedX speakers in August 2019 and other various speaking engagements, as well as an occasional writer who shares her thoughts through social media platforms.
In 2023, Aveena has completed the 130 hours of Intensive Practitioner Certification Training in TimeLine Therapy, hence qualifying her as an NLP Certified Coach and Therapist. An ardent believer in personal growth, Aveena has also completed Beyond Success Leadership & Personal Growth Programme in the same year.
"Art for me is more than just a hobby. It is Life, my worth & capabilities." K.